Daiitoku-ji Temple

The Daiitoku-ji temple in Kishiwada-shi, Osaka is the Buddhist temple of the Tendai sect of Buddhism.
Tahoto is specified to be the important cultural property of a country.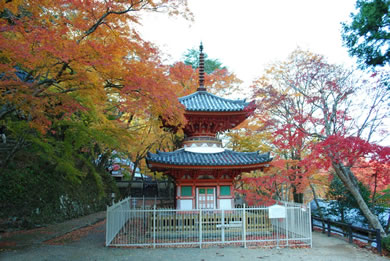 The Autumnal leaves of Daiitoku-ji Temple

A Daiitoku-ji temple is in the mountain of Ushitakiyama famous as a famous place of autumnal leaves.
It is known also as a famous place of autumnal leaves where a maple and a ginkgo tree color, and is. And the sight in which the mossy stone steps and autumnal leaves are tasteful is wonderful very.
As for November 23, the Ushitakiyama maple festival is held.

View Daiitoku-ji Temple in a larger map
Access to Daiitoku-ji Temple

[Address]
1178, Osawa-cho, Kishiwada-city, Osaka Prefecture
[Access]
From the Kishiwada station, the Nankai wing bus is taken
and it gets off by Ushitakiyama.
[The link to a website]