Minoo Park

Natural park (quasi-national park) of arresting scenic beauty spreading through about 100- to 600- meter high mountains in the northern part of Mino City.
In the park a long gorge runs through forests from the magnificent Mino Waterfall, about 33 m high and 5 m wide, forming a habitat for 980 species of plants and over 3,000 species of insects.
Located in precious natural forests in Osaka Prefecture, the park is the western starting point of the Tokai Natural Trail.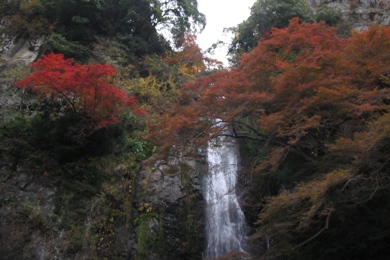 The autumnal leaves of Minoo Park

Visitors can enjoy seasonal changes in the scenery, such as cherry blossoms in spring, trees covered with ice and hanging icicles in winter and especially the brilliantly colored leaves late in fall.
Minoo-otaki is a large waterfall of 33m of falls selected by "the waterfall in Japan."
Since the figure of a waterfall in which it flows and falls resembles "Mino" of farm implements, it comes to be called Minoo-otaki and said for the origin of the name of a place to also come from here.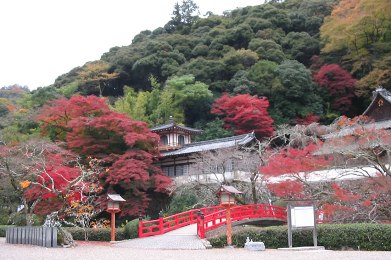 The autumnal leaves of Ryuan-ji and Saiko-ji Temple

The Mino Mountains are an ancient sacred site of Mountain Buddhism, where there are old temples, including Ryuanji Temple (otherwise known as Mino Temple), an important training center said to have been established by En-no-gyoja, the founder of Shugendo.
Mino Insect Museum, which is located on the way to the waterfall, is also well known. At the museum visitors can see not only about 10,000 samples of insects, but also over 200 live butterflies of about 30 species, and learn about their year-round ecology.
Saiko-ji Temple was opened as a Buddhistic practice ground.
The precincts of a temple are covered from spring fresh green to the autumnal leaves of autumn by the maple from which a kind is different.

View Minoo Park in a larger map
Access to Minoo Park

[Address]
Mino-Koen, Mino City, Osaka Pref.
[Access]
Keihan railway: Naniwabashi Sta.
Short walk from Mino Sta. on the Hankyu Mino Line.
[The link to a website]