Nakanoshima Park

Nakanoshima Park is a waterfront park nestled between the Dojimagawa and Tosaborigawa rivers.
The park, about 1.5 km in length and 10.6 ha in area, is an urban oasis filled with greenery attracting a lot of citizens.
In addition, behind the place where Osaka City Central Public Hall now stands, there was a Noh stage "Suiryukan," where Kongo school Noh plays were acted regularly.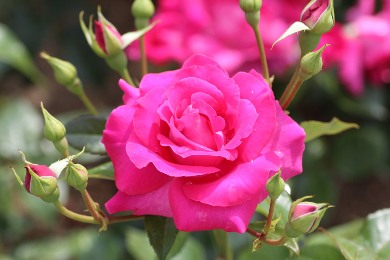 The Rose of Nakanoshima Park

The rose garden, occupying the east side of Nakanoshima Park, is so spacious and tranquil that visitors can easily disregard its city-center location.
It is divided into three areas: Bara-no-Niwa, Bara-no-Komichi, and Bara-no-Hiroba, where some 4,000 roses consisting of 89 cultivars come into full bloom each May.
At the end of every year, the park is illuminated and attracts many visitors.

View Nakanoshima Park in a larger map
Access to Nakanoshima Park

[Address]
1 Nakanoshima, Kita-ku, Osaka City
[Access]
Keihan railway: Naniwabashi Sta.
Subway(sakaisuji Line): Kitahama Sta.
[The link to a website]