Shitenno-ji Temple

Shitenno-ji is a temple in Tennoji-ku, Osaka-shi, and is set to one of the Shoutokutaishi erection 7 temple.
It is "the temple of the Shoutokutaishi erection" made into the originator of Japanese Buddhism, and has been independent of all the Buddhism-position that does not adhere to many cults of the existing Buddhism as "a temple of the beginning of Japanese Buddhism" as a Washu head temple in 1946.
Shitenno-ji is called oldest thing as a full-scale Buddhist temple in Japan together with Hoko-ji(Asuka-dera).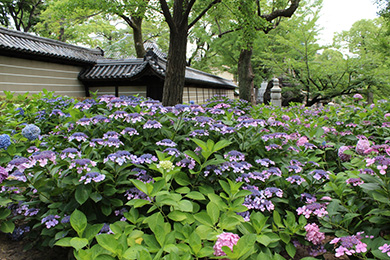 The Hydrangea of Shitenno-ji Temple.

"The hydrangea" was beautifully in bloom nearentrance "the yard of paradise" in the northeast of the Shitenno-ji compound.

View Shitenno-ji Temple in a larger map
Access to Shitenno-ji Temple

[Address]
1-11-18, Shitennoji, Tennoji-ku, Osaka-city
[Access]
JR/Subway: 12-minutes walk from Tennoji Station.
Subway(tanimati line): 5-minutes walk from Shitennoji-yuhigaoka Station.
Kintetsu minamiosaka line: 14-minutes walk from Abenobashi Station.
[The link to a website]