Daikaku-ji Temple

This temple is the head temple of the Daikaku-ji school of the Shingon sect of Buddhism.
It is also called as Sagagosho.
It was converted to a temple in 876. This temple later fell into ruin, but it was reconstructed by Emperor Go-Uda in1307.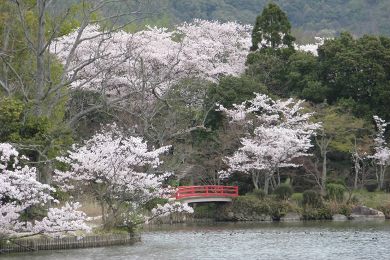 The autumnal leaves of Daikaku-ji.

The grounds are also known for their cherry and apricot trees as well as their many flowers. In fact there is a school of ikebana (flower arranging) associated with the temple, and a flower festival is held here every year in the spring.
Adjoining Osawano-ike is famous as a aristocrat's boating, or a place of a moonlight party.
̒Somei Yoshino and the wild cherry tree are in all glory centering on the scenic spot and Osawano-ike specified by a country.

View Daikaku-ji Temple in a larger map
Access to Daikaku-ji

[Address]
4 Saga-Osawa-cho Ukyo-ku, Kyoto
TEL : 075-871-0071
[Access]
City/Kyoto Bus : 1-minute walk from Bus Stop Daikakuji

[The link to a website]