Eikan-do Zenrin-ji Temple

Eikando is the head temple of the Seizan Zenrinji School of the Jodo sect of Buddhism.
The buildings were destroyed by fire during the Onin War and rebuilt in 1497. Afterwards, other buildings also were gradually added to complete the present structure.
The statue of Amitabha Tathagata (Important Cultural Asset), twisting its neck to the left with a smile, is a very rare example and is popularly called "The Looking-back Amitabha."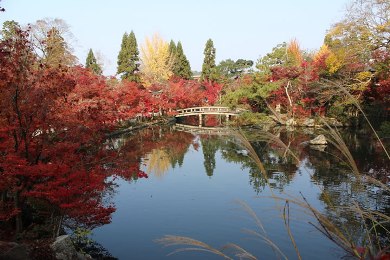 The autumnal leaves of Eikan-do Zenrin-ji.

Eikan-do is famous as a famous place of autumnal leaves.
They are the autumnal leaves of the "Hojo pond" circumference.
As for the time of autumnal leaves, the special visit (light rise) of night is carried out.

View Eikan-do Zenrin-ji Temple in a larger map
Access to Eikan-do Zenrin-ji

[Address]
48 Eikando-cho, Sakyo-ku, Kyoto
TEL 075-761-0007
[Access]
City Bus; 3-minute walk from Bus Stop Nanzen-ji Eikando-michi.

[The link to a website]