Enko-ji Jozanji Temple

Enko-ji is the temple of the Rinzai sect Nanzen-ji group in Sakyo-ku, Kyoto-shi Ichijo-ji.
In 1601, shogun Ieyasu Tokugawa built the Enkoji Temple in Fushimi, Kyoto, as a school to promote scholarship in Japan, and invited as its principal Zen Priest Genkitsu (Kanshitsu) Sanyo, who had been the ninth principal of the Ashikaga School in Shimotsuke ( a region near Tokyo).
In the garden Suikinkutsu makes a delicate natural sound in a ceramic pot under the ground.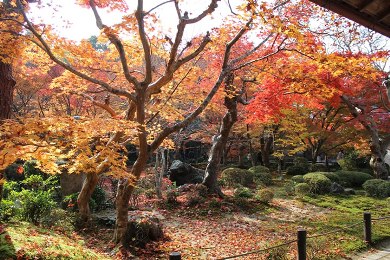 The autumnal leaves of Enko-ji.

Around Seiyu Pond, the oldest pond in northern Kyoto, spring new greens and fall colorful leaves make this garden very attractive.
Many wooden printing types of those days sent by Ieyasu are saved, and these are specified to be important cultural properties.

View Enko-ji Temple in a larger map
Access to Enko-ji

[Address]
103chi, Ichijoji Kotanicho, Sakyo-ku Kyoto
[Access]
City Bus : 10-minute walk from Bus Stop Ichijoji-kudarimatsu-cho

[The link to a website]