Fushiminari-taisha Shrine

Fushimi Inari Taisha Shrine is the total head office of the Inari shrine which has about 40,000 companies all over the country in the shrine in Fushimi-ku, Kyoto-city.
A main shrine is located at the foot of the Inari mountain, and the whole Inari mountain is made into the sanctuary.
This intriguing shrine was dedicated to the god of rice and sake by the Hata clan in the 8th century. As the role of agriculture diminished, deities were enrolled to ensure prosperity in business enterprises.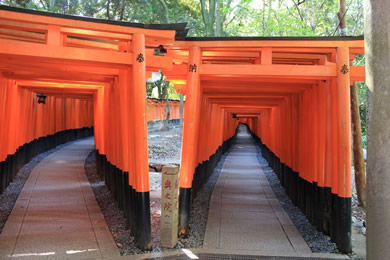 The cherry tree of Fushiminari-taisha.

There are about 10,000 sets of the torii dedicated by the believer in the Inari mountain. The custom which dedicates torii started at the Edo period.
Many places called especially 10,000 shrine gates are built at a narrow interval, and are famous places.
This shrine, dedicated to the god of rice and sake in the 8th century, also features dozens of statues of foxes.
The fox is seen as the messenger of the god of grain foods, Inari, and the stone foxes are often known by the same name.

View Fushiminari-taisha Shrine in a larger map
Access to Fushiminari-taisha

[Address]
68, Yabunouchi-cho, Fukakusa, Fushimi-ku, Kyoto-city
[Access]
JR Nara-line: 2-minute walk from Inari Station.
Keihan Rlwy : 3-minute walk from Fushimiinari Station.

[The link to a website]