Genko-an Temple

Genko-an temple is the temple of the Soto sect in the Takagamine Kita-ku, Kyoto-shi.
The note and footprint of blood remain at the blood ceiling which Hondo's ceilings are the ruins of Fushmi Castle and tells the tragedy of a defeat game.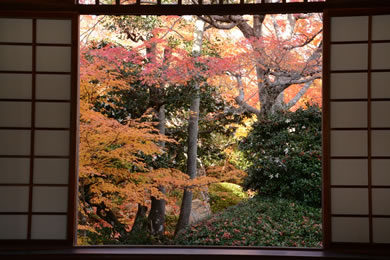 The autumnal leaves of Genko-an.

It is the temple where the autumnal leaves in the Hondo circumference and a garden are beautiful.
The autumnal leaves of those square with a window which are called the round window called "window of spiritual enlightenment" and "window of illusion" to Hondo and the garden seen to through a window [ the ] are wonderful.
The window of spiritual enlightenment expresses the heart of "zen and Entu" circularly, and the circle is expressing the universe.
The window of illusion symbolizes "man's whole life" in a square shape, and expresses the struggle of a "student old death due to sickness."

View Genko-an Temple in a larger map
Access to Genko-an

[Address]
47, Kitatakagamine-cho, Takagamine, Kita-ku, kyoto-city
[Access]
City Bus : 2-minute walk from Genko-an-mae.