Ginkaku-ji(jisho-ji) Temple

Ginkaku-ji (Temple of the Silver Pavilion) is the more common name for Jisho-ji Temple, a temple belonging to the Buddhist Shokoku School of the Rinzai Zen sect.
It is called "Ginkaku".
It was originally constructed as villa of Ashikaga Yoshimasa (8th shogun of the Muromachi period) in 1482.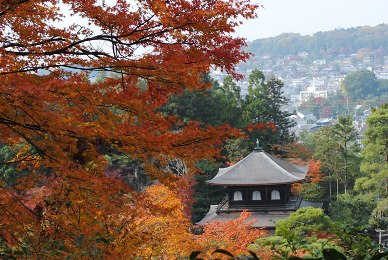 The autumnal leaves of Ginkaku-ji.

Ginkaku-ji Temple (The Silver Pavilion) is an elegant temple set in beautiful grounds at the foot of Kyoto's eastern mountains. Its grounds are an outstanding example of Japanese landscape architecture.
The stroll garden around the pond created by Zeami.

View Ginkaku-ji Temple in a larger map
Access to Ginkaku-ji

[Address]
2 Ginkakuji-cho, Sakyo-ku, Kyoto City
TEL 075-771-5725
[Access]
Keihan Railway; 10-minute walk from Demachiyanagi Station.
City Bus ; 5-minute walk from Bus Stop Ginkakuji-mae.

[The link to a website]