Heian-jingu Shrine

Heian-jingu Shrine is a relatively recent addition to Kyoto's collection of sacred places, but is still a very impressive shrine which features elegant, richly-colored buildings surrounded by large gardens in the four cardinal directions.
There is plottage as about 66,000 square meters including the "Heian Jingu Shin'en" which is the Japanese garden of about 33,000 square meters.
Emperor Kammu who opened Heiankyo, and the Emperor Komei who is the Emperor of the Edo period last stage are deified by the enshrined deity.
he buildings are smaller-scale replicas of buildings in the first imperial palace, which is built in 794.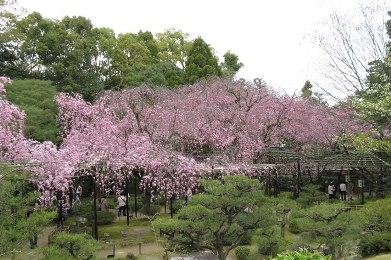 The cherry tree of Heian-jingu.

The strolling garden around the pond is a Place of Scenic Beauty. It is called "Shinen" garden, which is especially lovely during the cherry blossom season.
The large yard spreads out in the inner part of the precincts of a temple in Heian Jingu, and especially the "red weeping cherry tree" with a deep color is famous for the brightness.
That in which "red weeping cherry tree" was planted about by 150 on the occasion of the Heian Jingu foundation in Meiji 28 is almost the case.
On the whole, there are about 300 cherry trees.

View Heian-jingu Shrine in a larger map
Access to Heian-jingu

[Address]
97 Nishi Ten-no-cho, Okazaki Sakyo-ku, Kyoto City
[Access]
10-minute walk from Higashi-yama Station on the Tozai Subway Line
15-minute walk from Sanjo Station on the Keihan Railway

[The link to a website]