Hirano-jinja Shrine

Hirano Jinja was located from the first in Heijokyo in Nara. When the capital was transfered to Kyoto from Nara in 794, it was moved to this place.
The present company is called Hirano-dukuri by the erection of Kanei era every year, and a main shrine is an important cultural property.
It is a formal noted company on a par with the Ise-jingu Shrine, Matsuo Taisha Shrine, etc.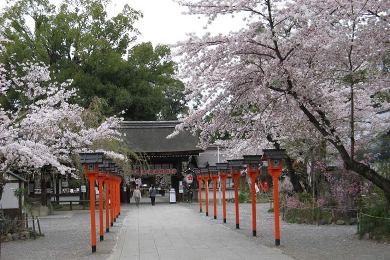 The cherry tree of Hirano-jinja.

Hirano Jinja is the famous place of the cherry tree called "the plum of Kitano, and cherry tree of a plain", and no less than 500 cherry trees are planted in the small precincts of a temple. There is a crest of a cherry tree also in a paper lantern.
There are many rare varieties and there are about 50 sorts and 400 cherry trees, such as a typical name cherry tree "Sakigake", "Nezame", "Taoyame",etc. of Hirano Jinja, in a garden.
The kind of early bloom begins to bloom in mid-March, there is a kind which will bloom in April at 20 every day, and, as for a late thing, about one month can enjoy a flower.

View Hirano-jinja Shrine in a larger map
Access to Hirano-jinja

[Address]
1, Hirano-miyamoto-cho, Kita-ku, Kyoto-city
[Access]
City bus: 1-minuts walk from Bus stop Kinugasakou-mae.
Keifuku Rlwy: 8-minuts walk from Kitanohakubai-cho Station.

[The link to a website]