Jojakko-ji Temple

Jojakko-ji is the Buddhist temple of the Nichiren sect in Sagano in Kyoto.
The combination of the autumnal leaves beside the other stone steps and moss is wonderful to Hondo.
The statue of Nio told that Unkei manufactured stands on Nio-mon gate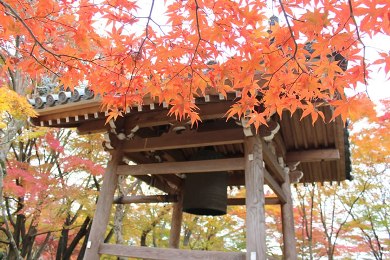 The autumnal leaves of Jojakko-ji.

If the precincts of a temple of Jojakko-ji Temple become autumn, they will be wrapped in autumnal leaves.
If it passes to a slight degree, it dances, and the maple which fell will be packed on moss and will be considered to become a more beautiful spectacle.
The photograph right is the "Syo-ro(bell tower)" surrounded by autumnal leaves.

View Jojakko-ji Temple in a larger map
Access to Jojakko-ji

[Address]
3 Ogura-cho, Ogurayama, Saga, Ukyo-ku, Kyoto
[Access]
JR (Rlwy): 15-minute walk from Saga-arashiyama Station.
Keifuku Rlwy: 20-minute walk from Arashiyama Station.
City Bus : 10-minute walk from Sagashakadomae.

[The link to a website]