Kanju-ji Temple

Kanshu-ji is the Shingon sect of Buddhism Sankai group head temple in the monseki temple in Yamashina-ku, Kyoto-city.
The Tsukiji wall of a beautiful white wall follows the both sides of an approach which result to Yamato, and the social status of a monseki temple is expressed.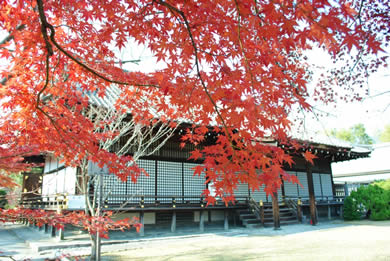 The autumnal leaves of Kanju-ji.

The autumnal leaves of Kanshu-ji can greet best time to see from the middle of November to the end of the month, and can enjoy the air of autumn by every place of the precincts of a temple.
A maple is dyed the whole surface and red in front of Hondo. The beauty of Himuro's pond or the autumnal leaves of Yamato is exceptional.

View Kanju-ji Temple in a larger map
Access to Kanju-ji

[Address]
27-6, Niodo-cho, Kanshuji, Yamashina-ku, Kyoto-city
[Access]
Subway(Tozai line) : 5-minute walk from Ono Station.