Kifune-Jinja Shrine

Kibune-Jinja is a shrine in Sakyo-ku, Kyoto-shi, Kyoto and is the total head office of Kibune-Jinja which has about 450 companies in all parts of Japan.
As God of water, faith is collected from people treating national dish / cooking business and national water of trade.
The company was divided into three places of Motomiya, Yuinoyashiro (Nakamiya), and Okumiya, and he builds.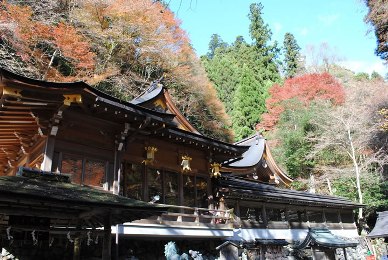 The autumnal leaves of Kifune-Jinja.

The coloring of autumnal leaves which looks beautiful in clear stream Kibune river can be enjoyed.
The mountain air helps keep the grounds cool in summer, as does the stream running nearby that is famous for its pure water. It is a popular place to escape the summer heat and enjoy the atmosphere of history and natural beauty.

View Kifune-Jinja Shrine in a larger map
Access to Kifune-Jinja

[Address]
180 Kurama-kibune-cho, Sakyo-ku, Kyoto
[Access]
Eizan Railway : 30-minute walk from Eizan Railway Kibune-guchi Station
Kyoto Bus : 5-minute walk from Bus Stop Kibune

[The link to a website]