Kiyomizu-dera Temple (World cultural heritage)

Kiyomizu-dera is one of a few of the temples with the history from the Heiankyo transfer of the capital or before in Kyoto.
Kiyomizu-dera (the temple of clear water) was named after Otowa Waterfall. Water from a spring in the mountain has been falling there since its foundation. Fifteen colorfully-painted halls and pagodas stand in its verdant precincts.
A left photograph is the Deva gate and three-storied.
It registers with the world cultural heritage as a cultural property of ancient city Kyoto.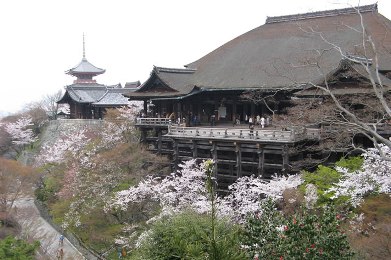 The cherry tree of Kiyomizu-dera.

The stage in Kiyomizu-dera is specified to be a national treasure, and is an important Japanese cultural property.
The pillar supporting the stage is made from keyaki(Japanese Zelkova) and the diameter of the pillar is the big tree set to no less than 12m at the maximum.
The place which the stage constructs the pillar and has covered with an extravagant flooring material called hinoki boarded on it is just going to call stage of the Kiyomizu temple.
The figure of Hondo who sees from the inner shrine and who was colored the cherry tree is just an unparalleled view.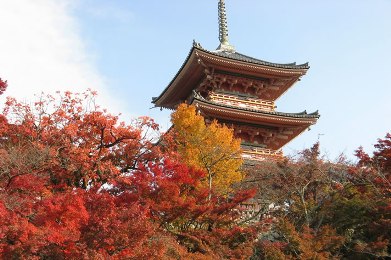 The autumnal leaves of Kiyomizu-dera.

Kiyomizu-dera is also the famous place of autumnal leaves.
The bottom of the stage of the Kiyomizu temple is the ravine called Kinunkei, and the trees of a maple (tree) around which the branch was twined carry out autumnal leaves splendidly in autumn.
Especially the view from the inner shrine is an unparalleled view.
Harmony with the maple which dyed skillfully, and solemn solemn national treasure and Hondo is beautifully brilliant.

View Kiyomizu-dera Temple in a larger map
Access to Kiyomizu-dera

[Address]
1-294 Kiyomizu Higashiyama-ku, Kyoto
[Access]
City Bus; 10-minute walk from Bus Stop Kiyomizumichi/Gojozaka .

[The link to a website]