Kodai-ji Temple

͍Kodai-ji Temple is located north east of Yasaka Hokanji Temple at the foot of Higashiyama Ryozen Mountains in Kyoto.
It is officially called Kodaiji-jushozenji Temple
The temple was established in 1606 by Kita-no-Mandokoro (1548-1624) in memory of her late husband Toyotomi Hideyoshi (1536-1598). Kita-no-Mandokoro was also known as Nene. She later became a priestess and assumed the name of Kodaiin Kogetsuni.
A splendid lacquer work ornament is given and Shumidan (dais for a Buddhist image) and Zushi (small shrine) are known as "Kodai-ji lacquer work" representing the Momoyama fine arts.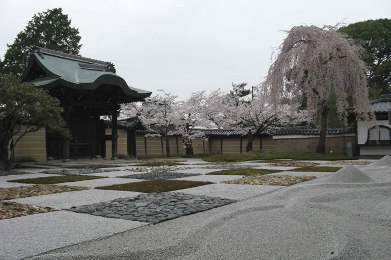 The cherry tree of Kodai-ji.

There are Kiyomizu-dera, Yasaka Jinja, Chion-in, etc. on the outskirts, and it is area with much famous place also with a cherry tree or autumnal leaves.
The figure which is beautiful as for the weeping cherry tree of Hojo Garden, and hangs down a branch to white sand makes the capital beauty who did gently think of.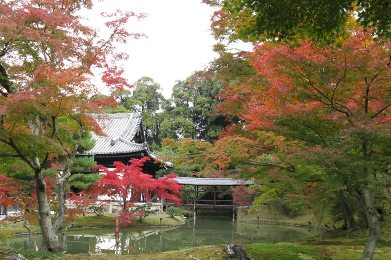 The autumnal leaves of Kodai-ji.

The autumnal leaves of the garden are beautifully carried out with a scenic backdrop -- the autumnal leaves projected on a pond by light rise are also mystical, and can be enjoyed also with day and night.
The precincts of a temple are colored about 1000 autumnal leaves.
The spectacle in which the trees in which the circumference especially colored in Garyochi(pond) look beautiful in the water surface is wonderful.

View Kodai-ji in a larger map
Access to Kodai-ji

[Address]
526 Shimogawara-cho, Kodai-ji, Higashiyama-ku, Kyoto City
[Access]
20-minute walk from Gion Shijo Station on the Keihan Railway
20-minute walk from Kawaramachi Station on the Hankyu Railway
5-minute walk from City Bus Stop Higashiyama-Yasui.

[The link to a website]