Koetsu-ji Temple

The Koetsu temple is the temple of the Nichiren sect in theTakagamine, Kita-ku, Kyoto-city.
Ieyasu Tokugawa gave this ground to Koetsu Honami which is the artist of the Edo period in 1615.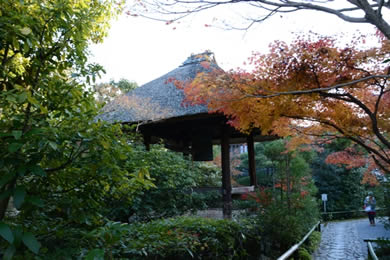 The autumnal leaves of Koetsu-ji.

If it passes through the front gate, the beautiful approach surrounded by autumnal leaves changing and coming out will meet.
In the precincts of a temple, seven tearooms, Daikyo-an, Sanpa-tei, RyoJaku-ken, Tokuyu-an, Honami-an, Kigyu-an, andJitoku-an are scattered, and there is Myoshu-an in contact with an abbacy.

View Koetsu-ji Temple in a larger map
Access to Koetsu-ji

[Address]
29, Koetsu-cho, Takagamine, Kita-ku, kyoto-city
[Access]
City Bus : 3-minute walk from Koetsu-ji-mae.