Nijo-jo Castle (World cultural heritage)

This castle was a demonstration of Shogun Tokugawa Ieyasu's prestige and to keep an eye on the movements of the Imperial Cort.
In 1867, Shogun Tokugawa Yoshinobu declared the restration of imperial rule in this castle, thus ending the Tokugawa dynasty.
A clear stream garden is a garden where the west side is Japanese, and the east side serves as a garden of the Western style of whole surface grass.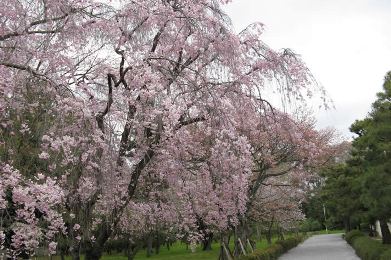 The cherry tree of Nijo-jo.

There are about 50 sorts and about 380 cherry trees including 110 wild cherry trees, such as about 120 double flowering cherry trees, 50 Red weeping cherry tree, and the Someiyoshino, in the inside of a castle.
Especially, the cherry tree of north "clear stream garden" and a southern "garden of a cherry tree" is impressive.
The weeping cherry tree of skillful pink is located in a line at the end of the east of the garden of the grass, and it is wonderful.
As for the "garden of a cherry tree" which is the famous place of a cherry tree on the south, many cherry trees are planted as the name.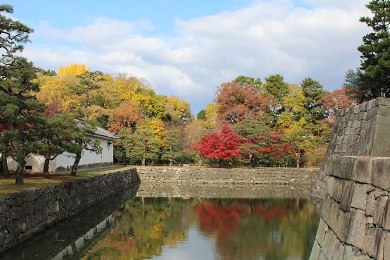 The autumnal leaves of Nijo-jo.

Nijo Castle of autumn is colored the deciduous tree of various kinds although autumnal leaves do not have gaiety.
If autumn comes, the "Nijo Castle castle festival" to which events, such as a chrysanthemum exhibition, are performed will be held.

View Nijo-jo Castle in a larger map
Access to Nijo-jo

[Address]
541, Nijojo-cho, Nijo-dori Horikawa Nishi iru, Nakagyo-ku, Kyoto
[Access]
City Bus: Nijojomae Stop.
Subway: Nijojomae Sta.

[The link to a website]