Ninna-ji Temple (World cultural heritage)

Ninna-ji is popular in the sightseeing spot in Kyoto, and is registered into world heritage as "a cultural property of ancient city Kyoto."
This temple was originally built by Emperor koko, and later it was completed by Emperor Uda.
It was also called as the Old Imperial Palace of Omuro.
The Imperial Household and the connection are the deep high temples of social status, and the inside of a palace is structure like a court.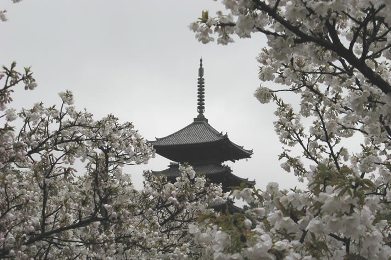 The cherry tree of Ninna-ji.

Ninna-ji is decorated with a cherry tree in full bloom in spring every year.
̒The Somei-yoshino in front of the main hall of a Buddhist temple, the weeping cherry tree in front of a bell tower, etc. compete and are in all glory.
There is a wood of a cherry tree famous for the late flower called "Omuro cherry tree" to the west side whole in Cyu-mon gate.
The Omuro cherry tree is a late flower and is a cherry tree with low height.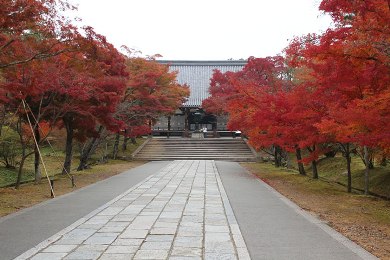 The autumnal leaves of Ninna-ji.

Ninna-ji is famous also for the autumnal leaves of autumn.
The photograph left is the autumnal leaves of the maple around a five-storied pagoda.
The autumnal leaves of the other approach (photograph right) both sides are wonderful from the Chu-mon Gate to the Kon-do.

より大きな地図で Ninna-ji Temple in a larger map
Access to Ninna-ji

[Address]
33 Omuro-Oouchi, Ukyo-ku, Kyoto-city
TEL : 075-461-1155
[Access]
Keifuku Railway; 5-minute walk from Omuro-Ninnaji Station.
City Bus; Omuro-Ninnaji Bus Stop.

[The link to a website]