Nison-in Temple

Nison-in Temple belong to the Sanmon school of the Tendai sect of Buddhism.
The name of Nison-in originates in 2 Buddha ("Shaka Nyorai" and "Amitabha Tathagata") of the principal image.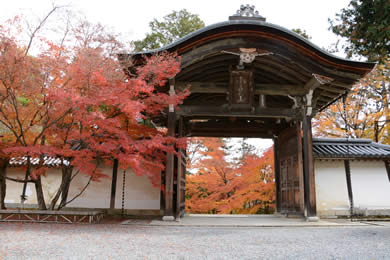 The autumnal leaves of Nison-in.

The approach called "Baba of autumnal leaves" who entered the main gate is known as a famous place of autumnal leaves.
If it looks in through the front of a gate, the tunnel of a skillful maple continues to the straight back.

View Nison-in Temple in a larger map
Access to Nison-in

[Address]
27, Chojin-cho, Nisonin-monzen, Saga, Ukyo-ku, kyoto-city
[Access]
JR (Rlwy): 15-minute walk from Saga-arashiyama Station.
Keifuku Rlwy: 20-minute walk from Arashiyama Station.
City Bus : 10-minute walk from Sagashakadomae.