Rokuo-in Temple

Rokuo-in was the semiautonomous subtemple of a temple called Hodo-ji temple which Yoshimitsu Ashikaga built.
Hodo-ji was abolished in the Onin War and only Rokuo-in which was founding's semiautonomous subtemple remains after that.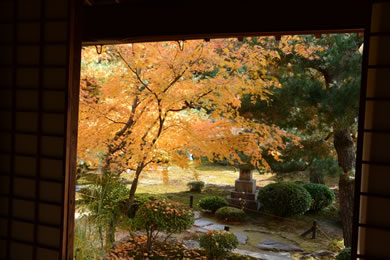 The autumnal leaves of Rokuo-in.

If it passes through Yamato, the arch of autumnal leaves follows the way of a stone pavement, moss is matched, and it is wonderfully beautiful.

View Rokuo-in Temple in a larger map
Access to Rokuo-in

[Address]
24, Sagakitabori-cho, Ukyo-ku, kyoto-city
[Access]
JR (Rlwy): 7-minute walk from Saga-arashiyama Station.
Keifuku Rlwy: 2-minute walk from Rokuo-in Station.
City Bus : 5-minute walk from Shimosaga.