Ryoan-ji Temple (World cultural heritage)

It is Japan's most famous "hiraniwa" (flat garden void of hills or ponds) and reveals the stunning simplicity and harmony of the principles of Zen meditation.
This temple belong to the Rinzai sect of Buddhism.It was built by Katsumoto Hosokawa in1450.
This temple is well known as having a dry landscape garden "The Rock Garden"."The Rock Garden" was created by white sand and 15 rocks.White sand represents water and rocks symbolize is lands or animals.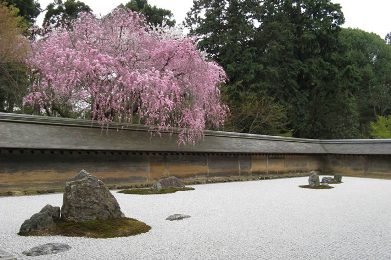 The cherry tree of Ryoan-ji.

͎The "Double flowering red weeping cherry tree" which blooms over a wall attaches a flower to a dry landscape garden literally.
About 400 cherry trees bloom in the precincts of a temple.
The garden of the circumference of Kyoyoti pond has many flowers of the four seasons.
There is impressiveness, such as spring plum, cherry tree and alpine rose, Moriwaka and the water lily of early summer, and Hagi, autumnal leaves of autumn.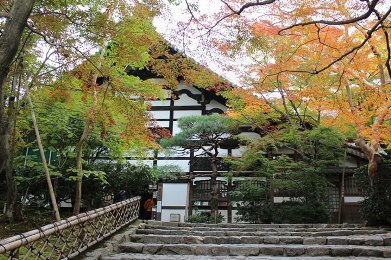 The autumnal leaves of Ryoan-ji.

An approach until it goes to an abbacy, and the autumnal leaves of the Kyoyochi pond circumference are impressive.
The autumnal leaves of the yard between a head priest's residence and a French Mister were also beautiful.

View Ryoan-ji Temple in a larger map
Access to Ryoan-ji

[Address]
13 Ryoanji-Goryonoshita-machi, Ukyo-ku, kyoto
TEL : 075-463-2216
[Access]
Keifuku Railway; 7-minute walk from Ryoan-ji Station
City Bus; 7-minute walk from City Bus Stop Ritsumeikandaigaku-mae
City Bus; 1-minute walk from City Bus Stop Ryoan-ji-mae

[The link to a website]