Tetsugaku-no-michi Street (The Philosopher's Walk)

Tetsugaku-no-michi Street(The Philosopher's Walk) is a pleasant stroll path that runs alongside a canal in the shadow of the eastern mountains between Ginkaku-ji Temple and the Nyakuoji Bridge.
Since the Kitaro Nishida ( a philosopher) walked being absorbed in meditation, it is said that this name was attached.
It passes very close to Anraku-ji Temple and Honen-in Temple, two quiet and picturesque temples that are less visited than Ginkaku-ji Temple.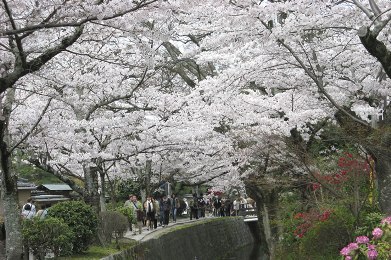 The cherry tree of Tetsugaku-no-michi.

Five hundreds of Somei Yoshino builds the tunnel of a flower in spring, and many people enjoying the cherry blossoms visit.
The autumnal leaves of Tetsugaku-no-michi.

The trees of the cherry tree of the both banks of an alley from the foot in Higashiyama chosen as "way best 100 of Japan" to the Ginkakuji temple carry out autumnal leaves.
After the autumnal leaves of a cherry tree, a southern maple etc. carries out autumnal leaves and is very beautiful.

View Tetsugaku-no-michi Street in a larger map
Access to Tetsugaku-no-michi

[Address]
Sakyo-ku, Kyoto
[Access]
Subway tozai line; 10-minute walk from Keage station.