Tofuku-ji Temple

Tofuku-ji Temple is the head temple of the Tofuku-ji Temple branch of Rinzai Zen Buddhism and number three of the Five Mountains of Rinzai Zen in Kyoto. The mountain name of Tofuku-ji Temple is "Enichi-zan"
The temple name "Tofuku-ji" was taken from the "To" of Todai-ji Temple and "Fuku" of Kofuku-ji Temple.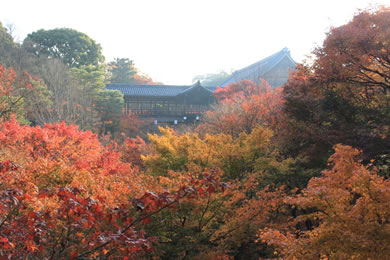 The autumnal leaves of Tofuku-ji.

Three ravines of Chatan, Nakatani, and Minamitani can be skillfully taken in in the vast precincts of a temple, and the autumnal leaves seen from "Tsuten Bridge",Gaun Bridge" are famous, and wonderful.
There are the oldest Sanmen in Japan, Hojo Garden, the Tsuten Bridge, etc. in the vast area within a temple.
Its original buildings were burned but were rebuilt in the 15th century according to the original plans. About this time it flourished as one of the Five Great Temples of Kyoto.

View Tofuku-ji Temple in a larger map
Access to Tofuku-ji

[Address]
15-778 Honmachi Higashiyama-ku, Kyoto
TEL : 075-871-0071
[Access]
JR Nara Line:10-minute walk from Tofuku-ji Station.
Keihan Railway:10-minute walk from Tofuku-ji Station.
City Bus: Bus Stop Tofuku-ji.

[The link to a website]