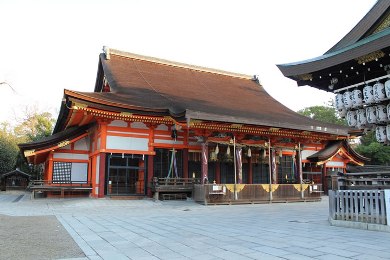 The autumnal leaves of Yasaka-jinja shrine.

Yasaka Jinja is a shrine in Higashiyama-ku, Kyoto-shi, Kyoto Gion-cho.
The shrine dates back to at least 876, when the priest Enjo invited Gozu Tenno, the god of illness prevention, to the shrine in an effort to stop the run of epidemics and other disasters that were afflicting Kyoto residents at that time.
This was also the beginning of the famous Gion-Matsuri Festival, which features a lively parade of ornate floats and people in period costumes culminating at Yasaka-jinja Shrine.
It is now one of the three main festivals in Kyoto and draws spectators from all over the world.
The autumnal leaves of Maruyama park.

Maruyama Park is a park in Higashiyama-ku, Kyoto-shi, Kyoto and is specified to be the scenic spot of a country.
There are about 8600square meters of plottage of Maruyama Park.
Maruyama Park located between Yasaka Jinja and Chion-in which were established in 1886 (Meiji 19) is the oldest park in Kyoto-shi.

View Yasaka-jinja Maruyama park in a larger map
Access to Yasaka-jinja shrine

[Address]
625 Kitagawa, Gion machi, Higashiyama-ku, Kyoto City
TEL:075-561-6155
[Access]
About a 5-minute walk from Keihan Gion Shijo Station.
About an 8-minute walk from Hankyu Kawaramachi Station.
About a 15-minute drive from JR Kyoto Station.
A short walk from the bus stop for the city bus on route number 206.
[The link to a website]