Horyu-ji Temple(World cultural heritage)

Horyuji Temple is widely known as the oldest wooden structure in the world which tells the figure of the Asuka period at present.
Horyuji Temple is divided into the "Sai-in" (West Precinct) consisting mainly of a five-storied pagoda and the main hall of a Buddhist temple, and the"To-in" (East Precinct) centering on the dream.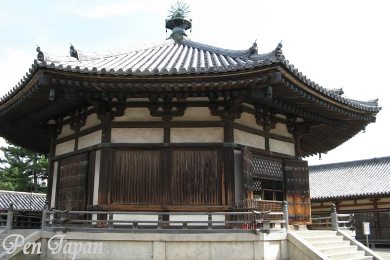 Horyu-ji Temple.

The building which collected the essences of each times including the Asuka period put eaves in a row in the precincts of a temple of about 187,000 square meters of width, and many treasures are introduced into them.
About 190 things and the about 2300 point specified to be a national treasure and an important cultural property are attained to.
Many steps of transoms are constructed by parallel crosses on the pillar, and this main hall of a Buddhist temple that is the production of two layer which stands on double Kidan which attached stairs on all sides is the characteristic building of the Asuka period.
In the East Precinct is the "Yumedono" (photograph left), the oldest octagonal hall in Japan.

View Horyu-ji Temple in a larger map
Access to Horyu-ji Temple

[Address]
1-1, Horyujisannai, Ikaruga-cho, Ikoma-gun, Nara
[Access]
Take bus No. 72 from JR Horyuji Station and get off at Horyuji Mon Mae
[The link to a website]