Kasuga-taisha Shrine(World cultural heritage)

Kasuga Taisha Shrine was founded to protect the Heijo-kyo Capital and is the head shrine for about 3,000 Kasuga shrines all over Japan.
At the "Mantoro Festival", about 2,000 stone lanterns along the path leading to the shrine and approx. 1,000 hanging lanterns in the main precinct are lit creating a solemn atmosphere.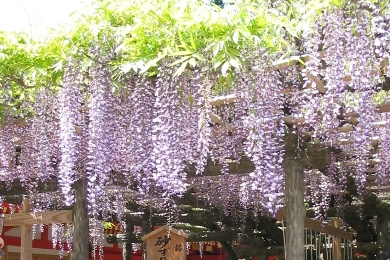 The Wisteria trellis of Kasuga-taisha Shrine.

Kasuga Taisha is famous also for a wisteria trellis.
About 300 kinds of trees and plants are planted in the "Kasuga Taisha Shrine Sin'en Park".
Since it is extended so that beautiful Fuji's ear of a flower rubs the sand of 1m or more hanging-down ground, this name sticks.
"Wisteria trellis garden " where 20 kinds and about 200 trees of Fuji are planted also in the south garden in a botanical garden was prepared.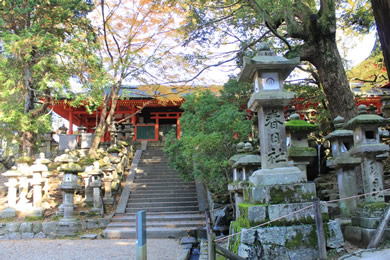 The autumnal leaves of Kasuga-taisha Shrine.

The autumnal leaves of an approach are beautiful.

View Kasuga-taisha Shrine in a larger map
Access to Kasuga-taisha Shrine

[Address]
160, Kasugano-cho, Nara-city, Nara Prefecture
[Access]
Kintetu Railway : 25-minute walk from Nara Station
Bus : 2-minute walk from Kasuga-taisha-honden-mae Bus Stop
[The link to a website]