Koriyama-jo Castle

The Yamato Koriyama-jo castle was built by the Junkei Tsutsui which was a local military leader in 1580.
In early stages of the inside of the Toyotomi Administration, it became the castle where a feudal lord usually resides of Hideyoshi's real younger brother Hidenaga Hashiba.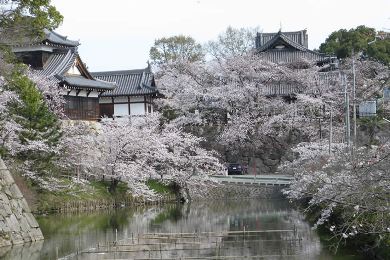 The Cherry tree of Koriyama-jo Castle.

Although the Somei Yoshino is mainly planted in the inside of a castle, it is supposed that it began that the cherry tree was planted from the time of Hidenaga.
Now, it is said that the cherry tree it is supposed that there are about 3000 is chosen as "cherry tree best 100 of Japan", and 50,000 persons visit this every year.
When calling it the cherry tree of the night of the Yamato-Koriyama castle, from the Meiji time, it was presupposed that it started and it was a bonfire at first. Bonbori(lamp) of an electric light is now lighted.

View Koriyama-jo Castle in a larger map
Access to Koriyama-jo Castle

[Address]
Jonai-cho, Yamatokoriyama City, Nara Pref.
[Access]
Kintetsu kashihara line: 15-minutes walk from Koriyama Station.