Todai-ji Temple(World cultural heritage)

Todai-ji Temple was built in the Nara period(710 - 794 AD) at the behest of Emperor Shomu.
The Great Buddaha Hall was burned in the fires of war in 1180 and 1567, and the current building is actually the third generation structure, which was built in the Edo period.
However, since the chief object of worship of the temple is Vairocana Buddha, a magnificent temple was built to reflect this importance.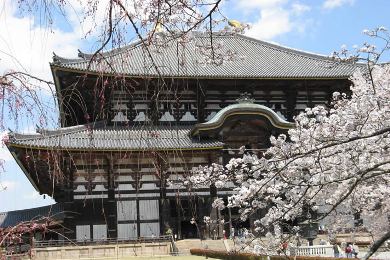 The cherry tree of Todai-ji Temple.

Many cherry trees to the circumference of the Halls of the Great Buddha in the middle of other etc. are in all glory from Nigatsu-do and Sangatsu-do from the other middle and Kagami-ike(pond) to Wakakusa-yama at the reverse side of a Hall of the Great Buddha.
if it enters into an inner gate, along the corridor of a Hall of the Great Buddha was resembled, and a weeping cherry tree and Somei Yoshino are beautifully in bloom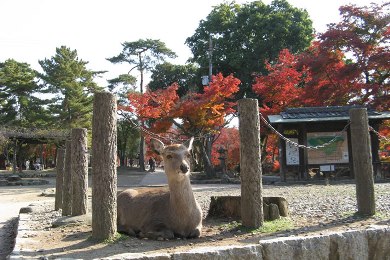 The autumnal leaves of Todai-ji Temple.

Autumnal leaves, such as the circumference in Nigatsu-do and Sangatsu-do and the Hall-of-the-Great-Buddha and Kagami pond circumference, are wonderful.
The deer which made autumnal leaves the background becomes a picture.

View Todai-ji Temple in a larger map
Access to Todai-ji Temple

[Address]
406-1, Zoshi-cho, Nara-city, Nara Prefecture
[Access]
Kintetu Railway : 20-minute walk from Nara Station
Bus : 5-minute walk from Daibutuden-kasugataisha-mae Bus Stop
[The link to a website]