Toshodai-ji Temple(World cultural heritage)

Toshodai-ji is the temple which Ganjin in 5jo-cho, Nara-shi built, and is the head temple of the Ritsu sect.
This temple was founded in the 3rd year of the Tempyo era(759) by the Chinese Buddhist priest Ganjin Wajo, who, with the invitation of Emperor Shomu, came to Japan after going through all sorts of hardships.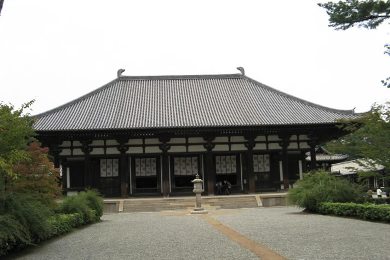 Toshodai-ji Temple.

The main hall of a Buddhist temple (on "photograph) is specified to be a national treasure. It is called the carrying-out-as the temple main hall of a Buddhist temple of Nara period erection-only existing thing.
It is a national treasure, and the auditorium of the auditorium and the drum tower (photograph right) is also made of "Iriomoya-dukuri" and "Honkawarabuki", and the front has four between of sides between nine.

View Toshodai-ji Temple in a larger map
Access to Toshodai-ji Temple

[Address]
13-46, 5-jo-cho, Nara-city, Nara Prefecture
[Access]
Kintetu Railway : 8 minute's walk from Kintetsu Nishinokyo Station
[The link to a website]