Yakushi-ji Temple(World cultural heritage)

Yakushi-ji is a temple which carries out the whereabouts to Nishinokyo-cho, Nara-city, Nara-pref. and is the head temple of the Hosso Sect of Buddhism in Kofuku-ji.
It is counted by one of the seven great Nara-period metropolitan monasteries, and the principal image is Yakushi Nyorai and the founder is Emperor Tenmu.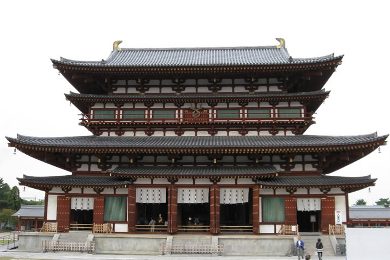 Yakushi-ji Temple.

The photograph left is the "main hall of a Buddhist temple." It was rebuilt in 1976.
Inside the Main Hall are the Buddhist statues of "Yakushi Nyorai", a divine protector against illness, and his two side-attendants.
These three Buddhist statues, which are collectively referred to as the "Yakushi Sanzon", are 2.6m high, made of bronze, and are among the finest examples of Buddhist art in Japan.
The tower of east and west, an auditorium, and a corridor are centering on the main hall of a Buddhist temple.

View Yakushi-ji Temple in a larger map
Access to Yakushi-ji Temple

[Address]
457, Nishinokyo-cho, Nara-city, Nara Prefecture
[Access]
Kintetu Railway : 1 minute's walk from Kintetsu Nishinokyo Station
[The link to a website]