Yata-dera Temple

Though officially called Kongosenji Temple, it is more familiarly known as Yata-no-ojizosan. The "Jizobosatsu" statue, or divine all-nourishing mother, is designated as an important cultural asset.
Yatadera Temple is also known as the temple of hydrangeas. A stunning sight, 10,000 plants of 60 different species of hydrangeas greet visitors and worshippers during June and July.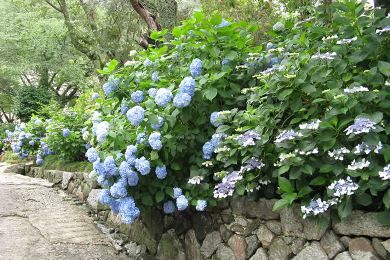 The hydrangea of Yata-dera Temple.

Although its day was still shallow when this hydrangea was seemingly planted ago (about 30 - 40 years) and was compared with the history of Yata-dera, it was still established completely.
͎A hydrangea is long from the vine hydrangea which the time to bloom according to a kind differs and begins to bloom in mid-May to the Chinese hydrangea which will bloom around September -- he can be enjoyed during the period
The precincts of a temple start in early spring hand and glove, and show effect every season as a spring cherry tree to the sasanqua of autumnal leaves and late autumn early winter at a little cockoo, Kyochikuto of summer, and the bushclover of autumn at the flower of an azalea and the hydrangea of early summer.

View Yata-dera Temple in a larger map
Access to Yata-dera Temple

[Address]
3549, Yata-cho, Yamatokoriyama City, Nara
[Access]
Take bus No.20 from Kintetsu Koriyama Station and get off at Yatadera-Mae.
A 5-minute walk from the bus stop
[The link to a website]