Hikone-jo Castle

Hikone Castle was a castle in Hikone-city, Shiga, and in order to sweep away the Sawayama-jo castle by Ieyasu Tokugawa's life, it was built from 1604, having applied it for 20 years.
It will be specified as a national treasure in 1952, and is one of the national treasure 4 castles in Himeji Castle, Matsumoto Castle, and Inuyama Castle.
It can enter into a castle tower. If the degree of slant of 60 degrees and the stairs of 62 degrees are reached, Hikone in the city, Lake Biwa, etc. can be viewed.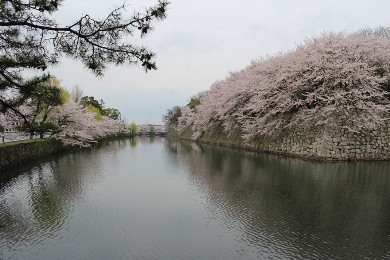 The Cherry tree of Hikone-jo Castle

There are 1200 trees of eight kinds of cherry including Somei Yoshino in Hikone Castle, and it is wonderfully beautiful when it is full bloom.
Cherry blossoms are in full bloom around April 8 each year, so in early April many people enjoy the cherry blossoms even at night.
During the period, the areas along the inner moat of Hikone Castle: Genkyu-en, Front Gate, Otebashi Bridge, and Kyobashi Bridge are lighted up.

View Hikone-jo Castle in a larger map
Access to Hikone-jo Castle

[Address]
1-1 Konki-cho, Hikone-city, Shiga Prefecture
[Access]
JR Tokaido-line; 5-minute walk from Hikone Station.
[The link to a website]