Ishiyama-dera Temple

Ishiyama-dera is the temple of the To-ji Shingon sect of Buddhism in Otsu-city, Shiga. It was founded by Emperor Shomu's behest in 749.
Hondo (national treasure) is built on a huge base rock called wollastonite ("Ishiyama-dera wollastonite") of the natural treasure of a country, and this also serves as the origin of a temple name.
Tahoto is the building of the Kamakura term with beautiful balance beauty, and both a bell tower and Daimon become the erection in early stages of Kamakura.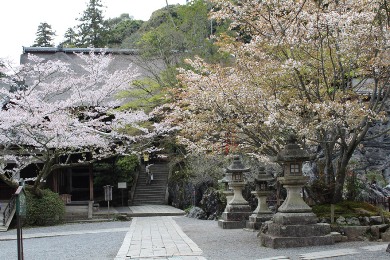 The cherry tree of Ishiyama-dera Temple

The flower of the cherry tree which made the background the green and various kinds of buildings of the precincts of a temple is beautiful.Wonderful cherry blossom viewing can be carried out feeling history.
The cherry tree roadside trees of the other approach both ends were full glory from the cherry tree roadside trees of the Seta river both banks which go to Ishiyama-dera from the Keihan Ishiyama station, and the Ishiyama-dera University of Tokyo gate to Hondo.
In the precincts of a temple, the stroll garden "Muyuen" which consists of a pond which modeled Lake Biwa, or a waterfall is located, and a cherry tree, azalea, and a Japanese iris can be enjoyed.

View Ishiyama-dera Temple in a larger map
Access to Ishiyama-dera Temple

[Address]
1-1-1, Ishiyamadera, Otsu-city, Shiga Pref.
[Access]
Keihan Ishiyama-line; 10-minute walk from Ishiyamadera Station.
[The link to a website]