Kimii-dera Temple

This temple was opened in the first year of the Hoki Era (770) by the Chinese monk and holy priest, Iko.
A formal name is "Kimiidera-kongohoji-gokokuin".It is loved by the name of "Kimii-dera" from three miraculous fountains (Seijyosui, Yoryusui, and Kichijosui) which begin to spring from Yamauchi.
A left photograph is the "Ro-mon(gate)" of a country specification important cultural property. It is built in 1509 of the Muromachi period.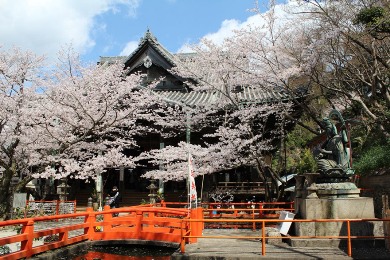 The Cherry tree of Kimii-dera Temple

Kimii-dera Temple is famous as a famous place of an early bloom cherry tree. The tree of about 500 cherry is planted in the precincts of a temple.
The specimen tree (Somei Yoshino) used as the standard of bloom declaration of Wakayama area is in this Domae.

View Kimii-dera Temple in a larger map
Access to Kimii-dera Temple

[Address]
23, Shichiban-cho, Wakayama-city, Wakayama Pref.
[Access]
JR Kisei-main-line; 10-minute walk from Kimiidera Station.
[The link to a website]