Koyasan Kongoubu-ji Temple

Koyasan is the 1 large holy place of Japanese Buddhism opened by the great Saint whom Japan produced, and Kobo Daishi at the beginning of the Heian period.
The religion city centering on the fundamental exercise hall called "Danjogaran" is formed.
It is said that the number of temples of Koyasan has the temples of 117 including Koyasan Shingon Mission head temple Kongobu-ji.
Kongobuji is the Head Temple of Koyasan Shingon Buddhism. It also functions as the headquarters for Shingon Buddhism for over 4,000 temples and missions throughout Japan and overseas.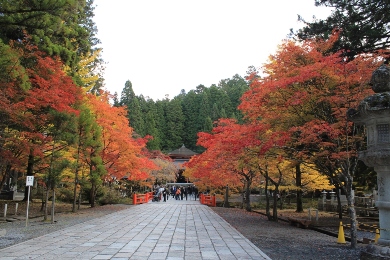 The Autumnal leaves of Koyasan Kongoubu-ji Temple

The autumnal leaves of Koyasan are somewhat as early as the beginning of the end of October - November because of 900m high ground.
The sightseeing spot of autumnal leaves is famous for Eirei-den, Kongobu-ji, Fudo-do, and a bellows way.

View Koyasan Kongoubu-ji Temple in a larger map
Access to Koyasan Kongoubu-ji Temple

[Address]
Koya-cho, Ito-gun, Wakayama Pref.
[Access]
Nankai Koya Line : Get off at Gokurakubashi ( Terminal Station )
then take Cable Car : Get off at Koyasan ( Terminal Station )
It is necessary to take a bus or a taxi to get into town from the station.
[The link to a website]