Wakayama-jo Castle

It is beginning that Hideyoshi Toyotomi who suppressed Kishuu in the 13th year of the Tensho Period (1585) made a younger brother's Hidenaga build Wakayama Castle.The expert Todo quantity tiger of construction of a castle took charge of the construction of a castle.
Ieyasu Tokugawa's tenth son(Yorinobu) entered a castle with 555000-koku, and the Kishuu Tokugawa family of the big three was materialized in 1619 (Genwa 5-years).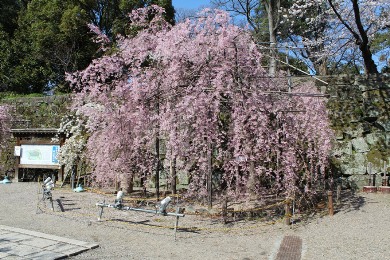 The Cherry tree of Wakayama-jo Castle

In the Wakayama Castle park, about 600 cherry trees bloom all over Tasteful from the "Okaguchi gate" to "Ninomaru-teien(garden)" Cherry tree roadside trees continue.

View Wakayama-jo Castle in a larger map
Access to Wakayama-jo Castle

[Address]
23,Shichibancho,Wakayama city,Wakayama Pref.
[Access]
JR Hanwa-line; 10-minute walk from Wakayama Station.
[The link to a website]